LESO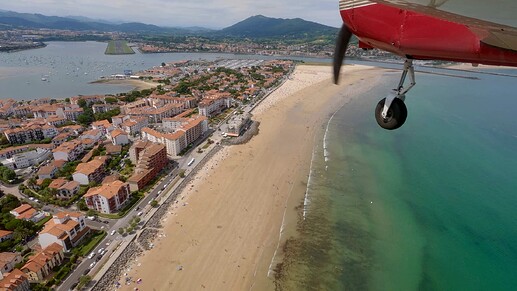 Experience Spain's Most Stunning Airport and Savor Delightful Cuisine
Key Information
Runways: 04 / 22 (1754 m)
[LESO]
APP119.850
TWR119.850
GMC121.700
Landing Fees: 15-30 EUR You can find the taxes for your airplane here: Guías de tarifas de servicio de los aeropuertos de Aena | Aena
Fuel: AVGAS, JET-A1
Charts
LESO AIP Charts
LESO Special Ground Procedure Information (490.7 KB)
About LESO
Discover the Hidden Gem: San Sebastian Airport (Hondarribia)
Introduction
San Sebastian Airport, also known as Hondarribia Airport, is a charming airport nestled between the borders of Spain and France. While it may not see the bustling traffic of major international airports, it offers a unique experience for both general aviation and commercial flights.
Airport Details
With a spacious runway and a picturesque location, San Sebastian Airport exudes tranquillity and serenity. However, it's important to note that parking spaces can be limited, so it's recommend requesting a slot at least 24 hours in advance to secure your spot.
Weather Challenges
The airport's enchanting location comes with a challenge – the weather. On most days, you can expect overcast or broken clouds. To plan your flights accordingly, it is advised to use reliable weather resources like Windy and from there access public webcams to get a clear picture of the conditions for that day.
Call the LESO Met Office if you're not sure if the storm is coming or where the cloud base/ceiling are (Number in the AIP).
Special Procedure for General Aviation
For general aviation, the airport has a special noise procedure to ensure a peaceful experience for the surrounding areas. After landing, taxi to the designated area marked with yellow and red, indicating "stop engine." From there, Ground or Tower will direct you to shut down the engine and proceed to push your aircraft to the assigned stand (usually set in the confirmation of the slot and they will confirm the stand number with tower). Remember to bring your tow bar for this purpose (it is not a big distance but specially in summer and with a heavy plane helps a lot).
Entering and Exiting the Airport
Navigating the airport is straightforward. To leave, simply head towards the fire station and follow the green path until you reach the terminal area. There, you'll find excellent bathroom facilities and various amenities and the exit to the parking/taxi area.
Returning to the Airport
To re-enter the airport, proceed to the Arrivals area of the terminal. Look for a closed door that has a keypad, not to be mistaken by the one close to the bathroom (it is the one that in the opposite side to the bathroom, remember has a keypad

and contact LESO OPS (see phone number in AIP). The friendly staff will promptly open the door and guide you to the Operations area. Here, you can handle administrative tasks such as paying landing fees, submitting cargo and passenger forms, and filing your new FPL (Flight Plan).
Smooth Coordination with Ops
For a hassle-free experience, it's recommend contacting LESO OPS at least 24 hours before your arrival - can be done via email, requesting a stand. They'll then confirm that they have space for you and assign you a stand. When you arrive, a simply call CLH (see phone number in AIP) with your fuel type and stand and they will be there in a few minutes (if there is not a Commercial Flight). The staff is renowned for their efficiency and friendliness. You can also coordinate it with Operations to refuel before departing.
How to get the best views:
San Sebastian Airport, with its unique blend of natural beauty and aviation charm, promises an unforgettable journey. If you came from the south, I would suggest to contact tower and request to cross from S to W and once on W and if you are entering via W, request to just follow coastline (@1000ft) till you intercept long final for runway 22. You will have stunning views from San Sebastian, the beach and cliff that surround the beautiful Basque Country. And if for traffic reasons it is not possible, just do it in reverse for when you depart. Depart via runway 04 and then turn left and follow the coastline until W, from there you can exit or just ask to cross to S.
Final for Runway 22 is very beautiful specially in summer, you will be overflying Hendaye beach (France) and then the Bay of Txingudi with lots of boats anchored there. And the position of the runway in the middle of the Bay gives the impression of landing in a sort of aircraft carrier.
About Hondarribia
Exploring Hondarribia: A Charming Walk from the Airport to the Old City
Arrival from San Sebastian Airport
As you step out of the airport, you have several options to reach the city centre. While taxi cabs are available, I'd like to share a more delightful and scenic route for your journey.
A Picturesque 500m Walk
Instead of hopping into a taxi, consider taking a leisurely stroll from the airport to the city centre. It's just a short 500-meter walk, taking only about 5 minutes of your time.
The Path Less Travelled
As you exit the airport and find yourself in the taxi area, resist turning left towards the highway. Instead, take a right and head towards the residential houses (https://goo.gl/maps/7NE5MBZxUGjKf49W8).
Discovering the Charming Residential Road
Once you've reached the residential area, you'll notice a small road with sidewalks. Follow this path, which runs parallel to the airport's runway. Enjoy the peaceful ambiance as you walk amidst the residential charm (https://goo.gl/maps/1wwQc3qQ7PDWXDA99).
A Serene Journey to the City
As you continue straight, you'll come across a small channel, and eventually, you'll reach a charming roundabout. Cross the road at the provided crosswalk and continue walking straight ahead (https://goo.gl/maps/tmMVJYKU2ytSBXfA8).
A Historical Welcome
You'll soon spot a small park to the right with a captivating fountain and a centuries-old stone arch. This arch, once a grand gate to the city, now stands as a historical symbol, accompanied by a soldier's statue nearby (https://goo.gl/maps/Yhea5U5B2WS1j6oR9).
Stepping into the Old City
Pass through the stone arch, and you'll find yourself within the enchanting old city of Hondarribia. Take your time to explore the narrow, winding streets that exude a timeless charm.
Unraveling Historical Treasures
As you continue straight, you'll encounter the splendid Catholic Church (https://hondarribiaparrokia.org/) and the remarkable 10th-century Castle (https://paradores.es/en/parador-de-hondarribia), which has been transformed into a charming hotel. Delight in the rich history and architecture that surrounds you.
A Gastronomic Haven
Hondarribia offers a delightful array of restaurants for you to relish. Wander the streets, and you'll find an excellent selection of dining options. However, I highly recommend walking an additional 10 minutes to San Pedro Kalea for an extra treat.
San Pedro Kalea: A Hidden Gem
Venture towards San Pedro Kalea (Google Maps), where you'll be captivated by the sight of charming old houses and a wider variety of restaurants. Among my favourites is "Grand Sol" (https://goo.gl/maps/zMzqq3wz7oszCZxk7), where you can savour a delightful culinary experience eating award winning "pintxos".
A Sweet Ending
Right across from Grand Sol, treat yourself to a scrumptious ice cream (https://goo.gl/maps/RwpbxogE1EgQHa2q6) that perfectly complements your delightful journey.
Conclusion:
Embark on this memorable journey from San Sebastian Airport to the old city of Hondarribia. Embrace the rich history, architectural wonders, and a delightful selection of restaurants that await you. Whether you choose to wander the charming streets or savour delectable dishes, this journey promises an unforgettable experience in one of Spain's most enchanting destinations.