About LESL
San Luis, Menorca is an airport operated by the local aeroclub, Aeroclub Mahon Menorca. It is probably the best airfield for GA flights on Menorca.
Key Information
Frequencies
LEMH Approach: 119.650
LESL Traffic: 123.500
Runways: 02 / 20
Chart Links
Notes
Read both the GuiaVFR chart and LEMH VAC for details on the procedures.
Landing fees are 12€ for the first day, 6€ for every following day. You will need to prepay your landing fee online on the Aeroclub Mahon-Menorca website.
Refueling is not available at the airfield.
Arrival and departure will be cleared via LEMH Approach.

Line up on the runway at LESL and call up LEMH and advise them of your departure as per LEMH AIP.

LEMH will ask you to confirm once you're on the ground at LESL.
About Menorca
At San Luis Aerodrome
If you're at LESL for lunch, be sure to check out the barbeque that they offer. €45 for a selection of grilled meats that is plenty for 2 people.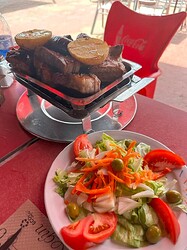 In the vicinity of the airport
Menorca, as one of the Balearic Islands, is a popular holiday destination. With the San Luis Aerodrome only being a 1.5 hour flight from Sabadell (LELL) it's a great destination for a day at the beach or a weekend trip to the island.
In close proximity to the airfield (a 10 mins taxi ride away) you can find Binibeca, which has a nice beach and a bunch of nice restaurants, including one with a pool!
If you're staying for the weekend, I'd recommend renting a car so that you can explore the entire island.