LELL - Sabadell
Sabadell Airport (LELL) is one of the most important general aviation airports in Spain, located in Sabadell, a 15 minute drive from Barcelona. The airport is mainly used for recreational and private flights, and has a single runway. It's the go to airport for general aviation in the greater Barcelona area.
Key Information
Runways: 13 / 31 (1049m)
LELL Tower: 120.800
LELL Ground: 121.600
Landing Fees: 11.16 EUR for a small aircraft
Fuel: AVGAS, JET-A1
Charts
AIP Link
LELL Circuit (1.2 MB) - Circuit is 2000ft AMSL!
About LELL
Sabadell is the main general aviation airport around Barcelona, offering a wide range of facilities.
Airside Access
In order to gain access airside, you will either need to have an Aena "TIP" (ID card) or present your flight plan and license at the security point.
Fees & Taxes
For a normal small aircraft (P28A), the landing fee is normally 11.16 EUR.
Additional information would be welcome in this section.
The easiest way to pay the landing fees is after your landing, calling the airport operations number (see AIP - phone number listed in the section UTILISATIONS OF HANGARS) and asking them to send a copy to the printer at the gate. This printer is located opposite the security point and barriers, in a small hut and has a machine to pay the taxes by card (no cash accepted) right next to it.
Fuel
There is a fuel station at the north-eastern side of the airfield, near R3.
AVGAS and JET-A1 are available.
Restaurant
Aeroclub Barcelona Sabadell
The local aeroclub operates a cafe which serves food and drinks. It serves a lunch menu with two courses as well as lighter fare, such as sandwiches, pastries and other snacks.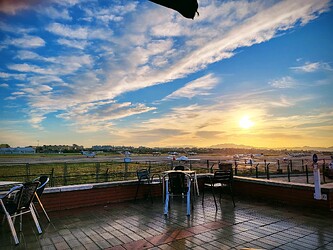 Most importantly, it offers sweeping views of the runway from it's terrace.
Clubs and Flight Schools